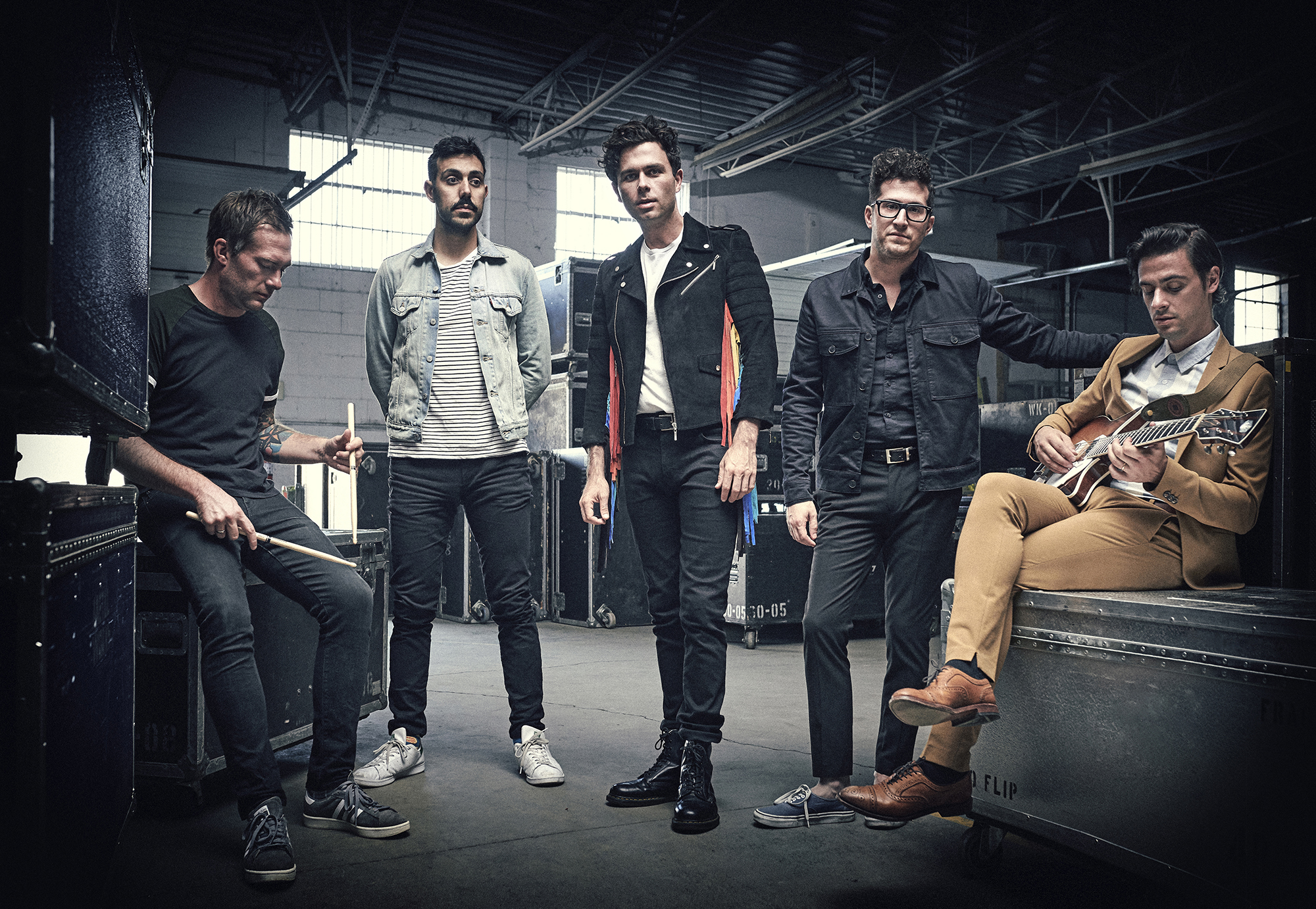 RALLY CRY
"Our attitude was, let's make this record as wild and weird and adventurous as we want it to be," Arkells singer Max Kerman says. "We felt that doing things that aren't traditional rock 'n' roll with heavy guitars is ok as long as it still feels like us. But at the same time, let's remember that at our core, we're an awesome rock band so let's make some awesome rock 'n' roll music."
Cue RALLY CRY, Arkells' fifth studio album and most pointedly powerful effort thus far, built upon voluble riffs, elastic bass grooves and incandescent pop melodies, with hooks and choruses that passionately galvanize and electrify. Long known for their exceptional songwriting and high-energy performances, the Hamilton, ON-based quintet – singer Kerman, guitarist Mike DeAngelis, bassist Nick Dika, keyboardist/arranger Anthony Carone, and drummer Tim Oxford – reveal on RALLY CRY a heretofore unheard soulfulness that elevates their new songs to places that, while connected to a new approach, feel perfectly in tune with who the band is and always has been. From the get go with the album-opening "Hand Me Downs," potent brass, cinemascope string arrangements and propulsive choruses reveal that RALLY CRY has the size and scope to match Arkells' ambition and ever-growing audience that love the band for the uniquely raw energy that is all their own.
"We always aspire to universal messages," Kerman says, "but ones that deliver in ways that make them idiosyncratic. We want to have songs that are catchy and awesome to sing along to, but also that dig into something really interesting and different."
Arkells first came together in 2006, with a moniker adopted from Hamilton's Arkell Street and an impassioned, adventurous, and distinctly modern approach towards their music. Debuting with 2008's JACKSON SQUARE, the band instantly proved creatively ambitious and intensely hard working, touring hard and driving their music further every step of the way. That ethos has never changed. Not ones to stop or slow down, RALLY CRY was recorded as Arkells toured behind 2016's MORNING REPORT and its 2017 follow-up single, "Knocking At The Door," a standalone blockbuster which spent 14 weeks at #1 on the Canadian Alternative chart on its way to multiple JUNO Award nominations including "Single of the Year." Indeed, "Knocking At The Door" proved far more than just a rock radio favorite – it became an ever-present staple of television sports coverage all over North America, including the Super Bowl, World Series, and U.S. Open.
"What happens to a song after you're done recording it isn't up to you," Kerman says. "Convergence needs to happen – time and place and luck. Where the song lands in the culture, you don't have anything to do with that. All you can do is your best, then put it out and keep working."
Both MORNING REPORT and "Knocking At The Door" saw Arkells pushing themselves towards bold new ideas of what it means to be a rock band in the modern world. Their success – both creatively and commercially – encouraged the band to take more chances next time around, to challenge themselves and their fan base even further.
Arkells re-enlisted JUNO Award-winning producer Eric Ratz – whose previous collaborations with the band includes "Knocking At The Door" as well as engineering their JUNO-winning third album, 2014's HIGH NOON – and hit the studio whenever their busy tour itinerary would allow. Coming in straight from the road allowed the band to bring all the fire of their increasingly powerful live show to the sessions, imbuing the LP with a rare urgency in both song and performance.
"We had all this energy," Kerman says, "so we wanted to go in there and just document what we felt as a band."
RALLY CRY expertly evinces the hard juxtaposition of being limitless while also staying true to your own idiom. For example, first single "Relentless" is classic Arkells despite marking the band's first usage of a sample, its hypnotic riff chopped from of South African artist Sello (Chicco) Twala's "Sixolele Baba."
"Paul Simon talks about how the first time he heard African music," Kerman says, "the guitars reminded him of early '50s rock 'n' roll, how when he looks for sounds he's looking for things are both exotic and familiar to him. That's how I feel about 'Relentless' and the Chicco song – there's something about that chord progression that just felt familiar to me, very comforting. But then there's also something about it that is very foreign to me. Being ok with doing something different, that's a really good place to be."
An ardent admirer of populist artists spanning Springsteen and Strummer to Chance and Kendrick, the band sees it as their professional duty to confront the issues they see in the world around them. Though Arkells have long waved their progressive bona fides in such songs as 2008's "No Champagne Socialist," RALLY CRY highlights such as "People's Champ" and "Company Man" are as charged as anything anyone has released in this current environment, directly targeting those in charge down in the Lower 48.
"Writing a political song is less about trying to hit someone over the head with your message," Kerman says, "but trying to articulate something that's thoughtful, something that comes from a unique vantage point.
"We have a real appreciation for America. We appreciate all of its beauty and glory. But then the luxury that we have is that when you're not living inside the belly of the beast, you're able to recognize some of the blind spots it might have. The vantage point of being Canadian and observing America allows us to ask a lot of questions because we have a different perspective on it."
While recording RALLY CRY, Arkells got the big idea to celebrate summer 2018 with a homecoming concert at Hamilton's Tim Horton's Field. "The Rally," as it was to be known, was booked in October, with a plan to only sell tickets on the stadium's floor and lower bowl. But when The Rally was finally announced in February, demand proved so strong that Arkells had no choice but to open up the full stadium and 24,000 rabid fans attended.
RALLY CRY – which takes its title from a lyric in "Relentless," "blood, sweat, tears of joy/That's what I call a rally cry" – makes it quite plain that Arkells sound and vision was definitely meant for the big rooms. "Saturday Night" and the sweeping "Show Me Don't Tell Me" are strikingly direct and immediately engaging, their festival field filling hooks imbued with a heart-on-its-sleeve lyricism fit to reach across borders and break down even the strongest of barriers.
"Our music is very outward looking," Kerman says. "It's not an insular experience. Especially in the digital age, where everybody is always on their devices — to have these big moments of communal feeling is that much more special. You're actually out of the house, surrounded by like-mined people, sharing a common experience – as the front guy, I think about that a lot, how I can make that connection feel real."
Though the state of rock music is quite different than it was but a decade ago, Arkells have adopted a time-honored approach towards being a band, building a faithful fan following night by night, town by town, building a community with each and every gig.
"It's about showing up," Kerman says. "Becoming part of people's lives. There's a direct correlation between how many times we've played a city and how many people are there, like a very obvious line on a graph."
Brimming with confidence and a determined openness, RALLY CRY marks a milestone on what has already been an undeniably atypical journey as well as a resonant signpost towards future triumphs. Armed with their most powerful musical statement yet, Arkells are determined to continue defying expectations and resisting easy pigeonholes, working hard while always keeping focus on what matters most – the people.
"Nothing has ever happened for Arkells overnight," Kerman says. "We just hope more people come to the gig next time and then slowly but surely, we can build up something real. A lot of bands have their moment, but it can be fleeting. If you keep working at it, keep trusting that your songs are meaningful, keep going out every night and performing your hearts out, an audience will come to you."