Rally Market
June 5th, 2018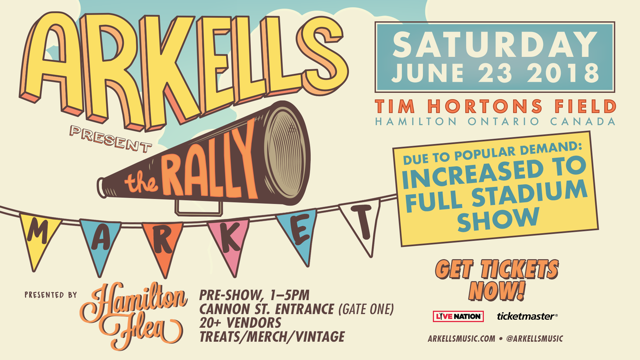 Hey All,
As we get closer and closer to the Rally, our summer kickoff show in Hamilton, we're going to be announcing different events and festivities around the city in conjunction with the concert.
This week, we announced the Rally Market we are hosting in conjunction with Hamilton Flea outside of the Cannon Street entrance to Tim Hortons Field. The market will be open from 1pm till 5pm on show day (June 23) and will showcase some of the city's best artists, designers and food trucks. The market is free and open to the public, but we recommend that you stick around for the show too. If ya haven't got your tickets already, you can get them here. If you're saving money to pay for a new air conditioner (it's summer, we feel you), we've released some $24 tickets in the bleachers that should be in your price range, too.
Our friends at Merit Brewery also announced a limited edition beer and sausage to commemorate the show. They both come highly recommended and the beer is being sold in a limited edition commemorative bottle starting this Saturday.
We have a few more fun events and plans to roll out surrounding the show so keep your eyes on our social accounts in the coming weeks. See ya at the showwwwwwww.
Nick