Sasquatch and Bunbury
June 6th, 2017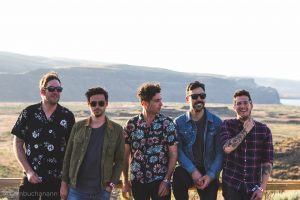 Howdy, Howdy, Howdy,
We're officially in the midst of festival season. We spent the past two weekends at Sasquatch and Bunbury festivals respectively. Seattle and Cincinnati are definitely not sharing zip codes – we've spent a lot of time in the air and on the road during the past two weeks. Luckily for us, the new House of Cards season has kept us occupied while in transit and we've managed to stave off the boredom (and leg cramping) that comes with cross-continental flights.
Even if we had been bored and uncomfortable, the trip to Sasquatch would have been well worth it – the Gorge Amphitheatre is one of the most scenic venues we've ever played in – and trust us, we've played in some pretty beautiful venues (Silver Dollar, Call the Office, Piano's). If you haven't been, the Gorge Amphitheatre is a scenic, outdoor venue set in the foothills of the mountains about two and a half hours east of Seattle. Every year, the Gorge plays host to the Sasquatch Music Festival – the pic of the band above is us at the festival grounds. As fans of the Constantines, the festival has always held a special place in our hearts – their 2006 performance during a hailstorm has gone down as one of the most epic in the band's history. Getting the opportunity to play such a legendary venue as part of such a legendary festival was definitely a band bucket list checkpoint.
We spent the following weekend in Cincinnati, where we played Bunbury, another great festival (we really are spoiled). The festival is set right on the banks of the Ohio River and we couldn't have had a better time while we were in town. Before our set on Saturday night, we went to Great American Ballpark to see the Great Canadian Ballplayer (Joey Votto). During our set on Sunday, we covered Bloodbuzz Ohio – a nod to Cincinnati's hometown heroes: the National. While I insisted that we pay tribute to Cincinnati's other hometown heroes: 98 Degrees, I couldn't convince the other guys in the band to add "Because of You" to the set list.
This weekend we're heading back to the Midwest to play at House of Blues in Chicago and Cleveland at LaureLive festival. Hope to see ya at the show…or at Lou Malnati's.
Nick